BRISTOL, Tenn. — A pungent odor emanates from the barn at Sullivan County's Merj Farm but defining the scent can prove tricky.
It might be described as an earthy or nutty aroma that somewhat resembles licorice. Some might say it has a skunk-like quality. Regardless, the smell comes from the farm's first harvest of thousands of hemp — or cannabis sativa — plants drying in the rafters. Soon, the plants will have their cannabidiol, or CBD, extracted and prepared for a burgeoning consumer market.
Regardless of how it's labeled, it smells like money.
Workers at Merj have spent the past two weeks harvesting the plants by hand — cutting each individually. They are hauled to the barn on a trailer painted for last year's Bristol Christmas parade to resemble a child's Radio Flyer red wagon. Once there, each plant is manually hung up in the barn — much like tobacco was once air cured. Few plants are taller than 5 feet but many are up to 9 feet wide.
Plants are expected to dry out for about two weeks and harvesting the entire 20 acres — potentially up to 20,000 plants — is expected to require an additional couple weeks, according to Merj CEO Howard Broadfoot.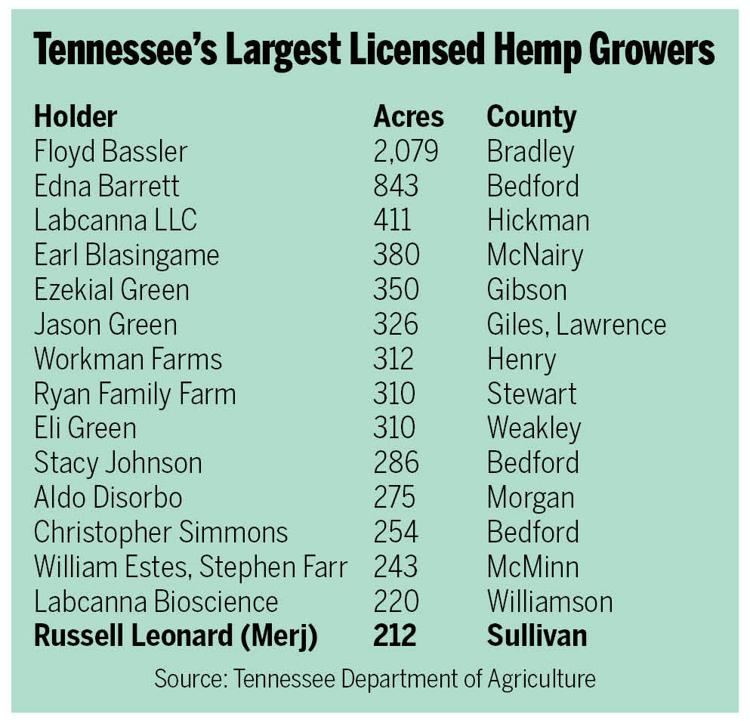 "It takes about 160 days for the crop to be harvestable so we planted in stages — every couple weeks another field, then another field," Broadfoot said last week during a visit to the barn. "They're drying now. These plants have about 15% moisture content, so when they get down to about 10 to 12% we'll take them and extract the oil."
In the field or in the barn, hemp looks and smells much like its illegal cannabis cousin marijuana. The green leafy plant is the same genus and species as marijuana, but hemp contains only 0.3% of tetrahydrocannabinol, or THC, the psychoactive component which makes the other plant illegal and classified as a Schedule I drug by the federal Drug Enforcement Administration.
For that reason, Broadfoot said, the farm previously hosted area law enforcement officials to tour the farm and understand exactly what was growing there.
Locally owned and operated
The farm is owned by Frank Leonard, president and CEO of Electro-Mechanical Corp. in Bristol, Virginia. Leonard holds the state license under the name Lime Hill LLC, a limited liability company.
Hemp production is allowed under terms of the 2018 Farm Bill and is currently grown in 24 states. Tennessee ranked fifth in U.S. hemp production in 2018 with about 3,300 acres, according to a report by Hemp Industry Daily.
Merj plants were created through a cloning process rather than grown from seed and were planted during May, Broadfoot said. Harvesting began Oct. 3 and is expected to continue for much of this month.
"We're still uncertain, but this has been a really good crop. We didn't know what to expect having never planted hemp before," Broadfoot said. "The weather cooperated very well. It was hot at the end, and it's supposed to be hot for these plants. No rain at the beginning was tough, so we had to water every day, but we got a good bit of rain during the summer. We didn't have winds or a hailstorm or anything like that, so it was better than we expected."
Read More